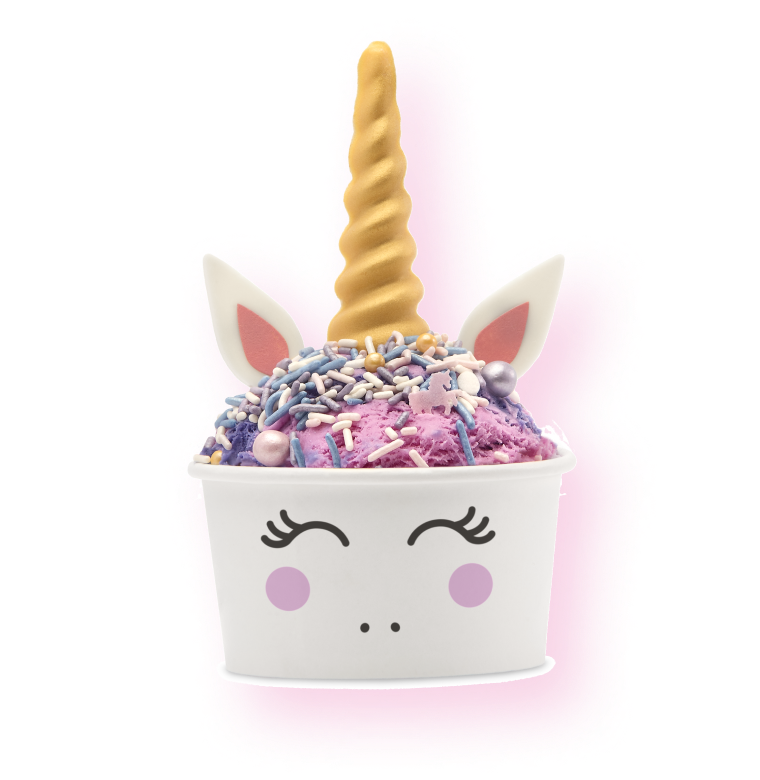 Digital Campaign + AR Lenses
Creature Creations
What
Product development
UI / UX
TVC
AR lens design
Packaging design
Summer is big business for ice cream brands. But Baskin-Robbins had a problem. Aussie ice-cream fans were ditching the big players in favour of artisan brands with a more defined personality and creative product range. To maintain relevance, they needed to provide a more engaging brand experience - one that would stand them apart from the category newcomers and resonate with their core young family and teen segments. So we created a summer campaign that would do just that.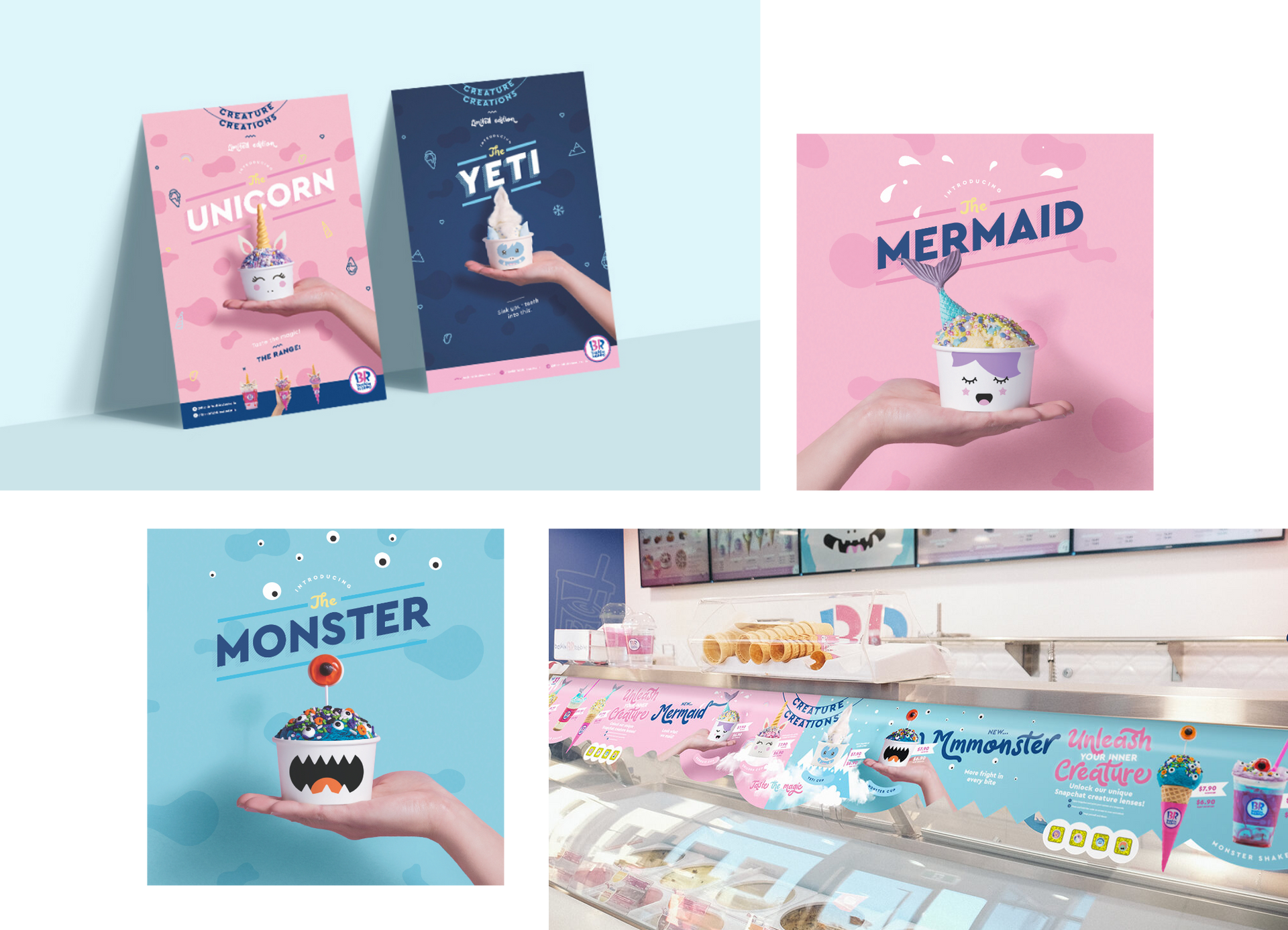 'Unleash Your Inner Creature' revolved around a unique, magical creature-themed product range, designed and developed by us inhouse. We knew our target audience were prolific users of Snapchat, YouTube and Instagram and that mobile was their primary source for accessing the internet - so we developed an immersive, mobile-first campaign that tapped into Snapchat's interactive sharing behaviours and leveraged the platform's augmented reality technology to literally bring the products to life.
02.
Cinema and paid digital
Our animated TVC ran across YouTube and in cinemas nationwide during the key school holiday period, while our digital marketing spend blitzed Facebook, Instagram and Snapchat. We reached 141,000 Australian cinema-goers aged 25-54 year olds (and their accompanying children), while almost 1 million Australians viewed the ad on YouTube pre-roll. 50% chose to watch the video in its entirety (the YouTube average completion rate is just 20%).
Product development
UI/UX - TVC - AR Lens
We created a mobile-optimised microsite to showcase the range, featuring a creature character quiz to increase engagement and encourage users to immerse themselves in the story. Not only did the site receive 30,000 visits in six weeks, but 50% of visitors took the quiz to discover their inner creature.
Product development
UI/UX - TVC - AR Lens
04.
Custom-built AR lenses
Taking advantage of Snapchat's new Lens Studio product, which made its AR technology available to users for the first time, we created custom-built face lenses for each creature. The lenses were served to users via instore POS and the brand's owned digital channels, as well as geotargeted Snapads, triggered when a pre-defined audience of Snapchat users were in the vicinity of a Baskin-Robbins store.
In just 6 weeks, 330,000 people unlocked, played with or shared the Snapchat lenses, with users playing with the mermaid lens for an average of 14.51 seconds (3 x the average).
05.
User-generated content
Using Baskin-Robbins' owned social channels, we incentivised guests to share shots of the product and lenses for the chance to win free ice cream for a year. The comp was supported by a micro-influencer campaign across Snapchat and Instagram. Our efforts helped the brand double its Instagram fanbase in just six weeks and spread awareness of the product range organically.
Type & Pixel have had such a massive impact on the Baskin-Robbins brand in Australia. Their work over the last 12 months has helped us redefine our proposition and elevate the brand experience, while their work on Creature Creations delivered the best unit sales results of any new product launch in the last 10 years. If you're looking for a brand agency, look no further.
The campaign was a huge hit, smashing sales figures and exceeding expectations across every channel and platform. We reached millions of Australian ice cream fans, introduced new customers to the brand, and delivered Baskin-Robbins' most successful product launch in a decade.
Snapad impressions

870K+

TVC views

1M+

TVC view-through rate

70%

AR lens interactions

650K+
Australian Business Awards
Winner
Marketing Excellence
2019
BADC Awards
Silver
Digital Campaigns
2019